November 21, 2016

宝居智子個展 -増殖の行方-開催のお知らせ、作風の変化について
宝居智子展-増殖の行方-
2016年11月26日(土)~12月5日(月)
※26日(土)PM5時より作品解説を行います。
場所:カザフスタン、アティラウ、ルネッサンスホテル、1階ロビーにて
大小含む新作を14点展示致します。来年'(2017年)に日本の京都・正寿院に収める天井画4点の舞妓像も公開致します。作品の変化を観て頂けたら嬉しいです。
-テーマ-
作家自身の子ども時代に感じた痛みや悲しみを、現代社会と重ね作品にしています。
人の欲望や憎しみが増殖する今日、私は言葉として訴えることのできない子どもや動植物の変わりに作品という形で彼らの声になりたいと思います。世界中が少しでも愛や平和に満たされることを願い私は作品を描いていきます。
作品開催にあたって
この度、カザフスタンにて二回目となる個展を開催致します。
今回の個展より、作風を変え新な気持ちで作家活動することを決意しました。このような決断ができたのはカザフスタンでの生活が影響しています。私は今まで日本の美しさや伝統を描いてきました。しかし、カザフスタンに来てから自分の作品に対して、何かが違うと疑問を感じるようになりました。それは、国や人種関係なく、日本人の作家、日本の絵画というよりも一人の作家として作品を観てほしいと思うようになったからだと思います。私は子供時代からの自分を見つめ直し、「自分の創作の原点とは何か」を掘り下げて考えることにしました。私の子ども時代はあまり楽しいものではなかったので、封印していた過去を思い出すのはとても辛いことでしたが、今回勇気を出したことで再び創作意欲が湧いてきました。
私は自分の子ども時代に受けた傷と現代社会で感じる傷を重ね、作品にしていこうと思います。私は芸術の力を信じ、生涯をかけて創作し続けたいと思います。
Tomoko Hokyo Solo Exhibition –Destination of Pain/Sadness Breeding-
Time: From 26th of November, 2016 (Saturday) to 5th of December, 2016 (Monday)
* I plan to hold introduction session of my works at 17:00 on 26th of November, 2016
Place: 1st lobby, Renaissance Atyrau Hotel, the Republic of Kazakhstan
14 pictures which are newly prepared will be exhibited, including 4 ceiling paintings of "Maiko" which will be dedicated to "Syoujuin" in Kyoto, 2017. It is highly appreciated if you will visit my exhibition, and I'm pleased to share my change of feelings with you.
Tomoko Hokyo Solo Exhibition –Destination of Pain/Sadness Breeding-
-Theme of my art-
I express my pain and sadness which I felt during my childhood, considering current difficult situation of modern society at the same time. While desire and hate of human being is increasing, I would like to complain pain and sadness incurred by them through my pictures on behalf of children, animals and plants who cannot speak to them directly. I prepare my works to wish the world would be filled with full of love and peace.
-Introduction of 2nd solo exhibition in Kazakhstan-
I'm pleased to inform that I'll hold 2nd solo exhibition in the republic of Kazakhstan.
Before holding this solo exhibition, I decided that I would change idiom of my work. One of the reasons of my decision is come from my life experience in Kazakhstan. Previously, I've expressed beauty and tradition of Japan through my works. However, during my stay in Kazakhstan, I felt some sense of discomfort toward my works, and found that this feeling is come from my wish that I would like to be a painter who can express the things, not being bound by race or country of individuals, nor "Japanese" style. After finding this feeling, I decided that I focus on "my origin of drawing pictures" considering the first moment when I started to paint in my childhood. Since my memory during my childhood is not the one which was very happy, and it brought me pain and sadness, I had sealed this feeling for a long time. However, I screwed up my courage and came face to face toward this feeling, and it brings me a new motivation to draw pictures.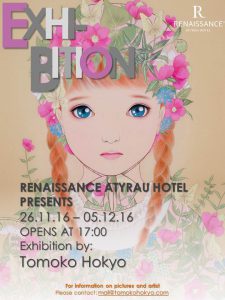 ルネッサンスホテルさんが可愛いポスターを作ってくれました!